- 
Ideal for two-person vlog, YouTube video, live streaming, interview, recording, etc.
-
Compatible with DSLR, mirrorless camera, smartphone, and computer devices.
-
2.4GHz wireless dual channel signal transmission technology.
-
Hi-Fi and low-noise audio processing and delivering system.
-
Built with easy-to read, vivid, and informative OLED display.
-
Built-in omnidirectional microphone and lavalier microphones on transmitter.
-
Headphone output jack on receiver for real-time monitoring.
- 
Stereo and mono outputs are available and switchable on receiver.
- Automatically Frequency-Hopping Technology, Powerful Anti-Interference
-
Built-in Li-ion batteries for 7h use on transmitter
View full details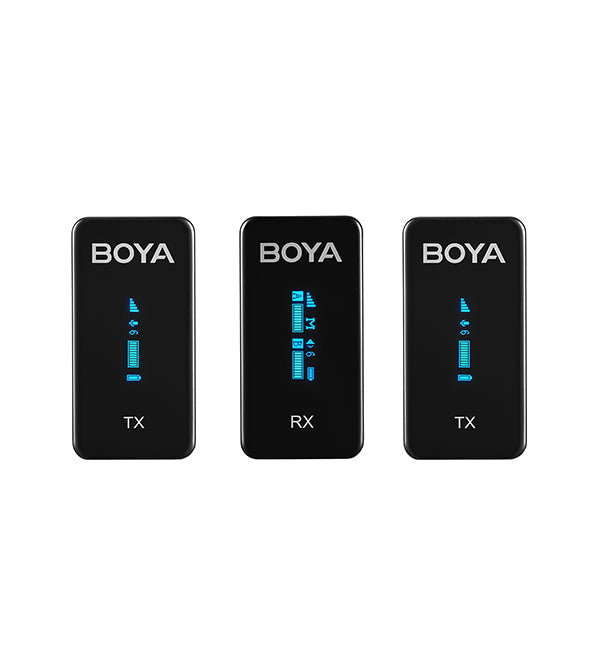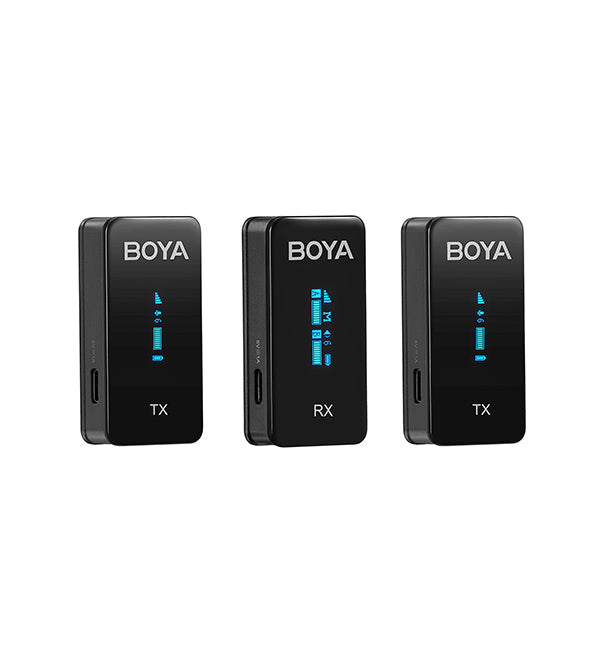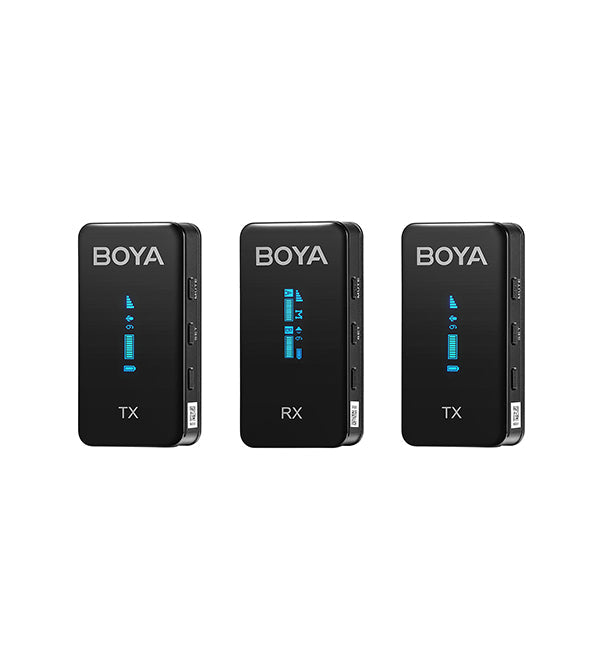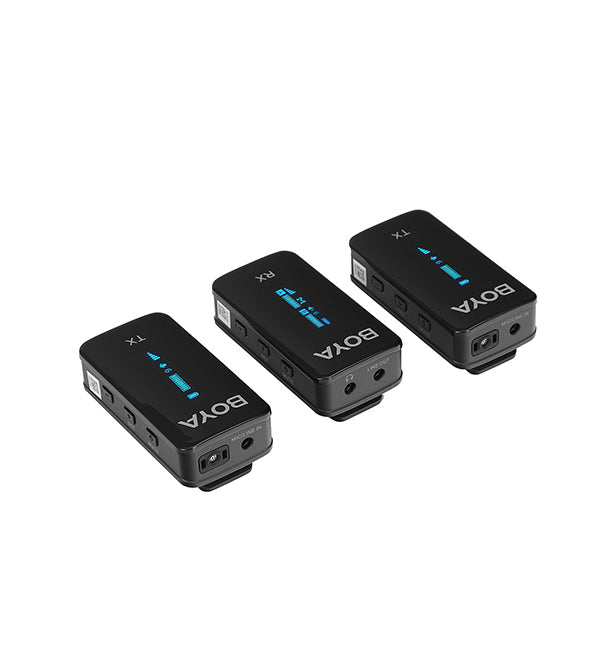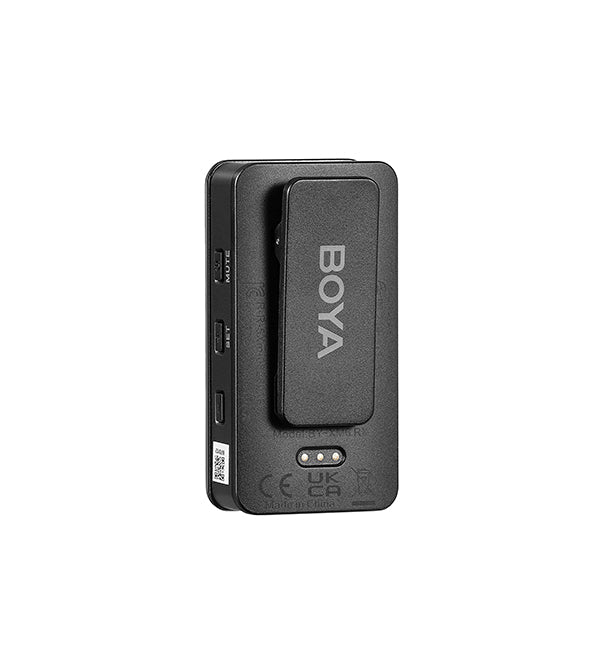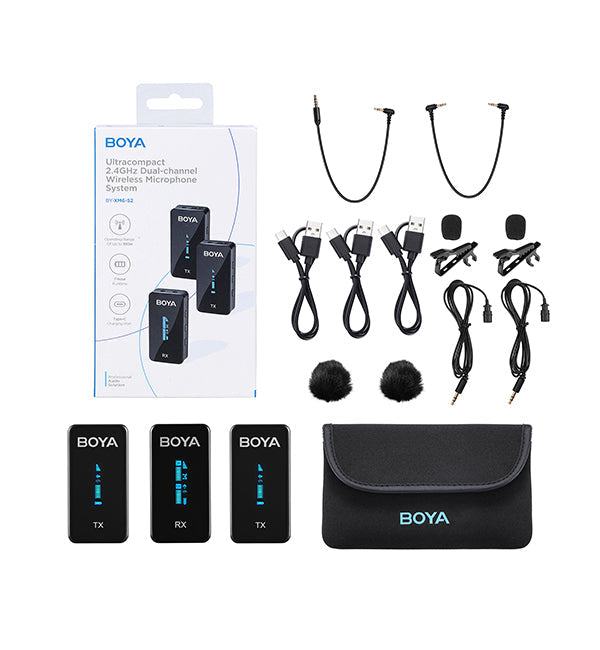 Overview
Parameter
Download
View All
Transmission Type
2.4GHz Digital Frequency
Operating Range (without obstacle)
Up to 328ft (100m)
Polar Pattern
Omnidirectional
Frequency Response
50Hz-18KHz
Maximum SPL
Built-in Microphone: 120dB SPL
Lavalier Microphone
110dB SPL
Sensitivity
Built-in Microphone: -39dB
Lavalier Microphone
-39dB
Power Requirements
Built-in Li-ion Battery or USB-C DC 5V or Charging Contact
Built-in Battery Life
Approx. 7 hours
Audio Inputs
3.5mm TRS MIC/LINE IN Jack or Built-in Microphone
Weight
Approx. 32g(1.13oz)
Dimensions
62.1×31.6×16.5mm
Operating Temperature
–10℃ to 50℃
Storage Temperature
–20℃ to +55℃
Transmission Type
2.4GHz Digital Frequency
Operating Range (without obstacle)
Up to 328ft (100m)
Audio Output Connector
3.5mm Headphone Jack / 3.5mm TRS Output Jack
Audio Output Level
–60 dBV to -20dBV
Power Requirements
Built-in Li-ion Battery or USB-C DC 5V or Charging Contact
Built-in Battery Life
Approx. 6.5 hours
Weight
Approx. 32g(1.13oz)
Dimensions
62.1×31.6×16.5mm
Operating Temperature
–10℃ to 50℃
Storage Temperature
–20℃ to +55℃
Mic Clip for Lavalier Microphone×2
Foam Windscreen for Lavalier Microphone×2
Fur Windshield for Built-in Microphone×2
3.5mm TRS to TRS Output Cable for Cameras×1
3.5mm TRS to TRRS Output Cable for Smartphones×1
View All
BY-XM6 S2 2.4GHz Ultra-compact Wireless Microphone System
Download